T

ransparency First
In the industry of stock market training, integrity and transparency are rare commodities. From the very beginning, we are clear that if we cannot make money consistently, we have no business of teaching others how to trade. Also, even if we do make money, how will other students learn from it?
The best (and the only) way to accomplish that is by trading live in front of everyone. That is the whole premise our Trading Room. Our students can watch us trade in real-time and can learn from the strategies we are deploying.
At the end of the day, we also recap the net profit/losses for the day and conduct an extensive post-mortem analysis of how well we traded that day.
Our aim to be best and be the most transparent organization in the field of stock market training.
L

earn by Doing
How good is a book in learning how to swim? It is good enough to get you started but there onward, you got to get into the water. You will need a coach to take you through the learning process but it is you who have to be in the water. You can't learn much by standing outside.
Trading is like swimming in an ocean with tides and sharks. Not only you need to be a great swimmer, you also need to know how to not get eaten away- everyday. A beginner should not just jump in and hope to survive for too long. He should first start with a safer place like a pool and gradually take higher calculated risks.
Therefore, we spend an enormous amount of time training our students in the concepts of risk management, trade management and trading psychology. Once the student know how to do all that, we ask them to trade in small positions that they can comfortably trade with. Gradually, we help them scale up and provide the guidance to start performing at their highest level.
T

rading is High Performance Sport
Just like a high-performance athlete has to be trained in rigorous conditions for a long period of time before the actual performance, a trader needs to be trained on the market with the same kind of rigor and discipline. We have designed our program to instill the same spirit and endurance in our students. We push our traders more because we expect the best from each and every one of them. Winning and losing one single competition doesn't matter to an athlete- what really matters is his consistency and success rate. In the same way, a we train our traders to become consistently profitable and not obsess over big wins.
All said and done, only the well trained and the strongest minds will survive in this market.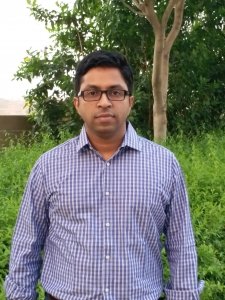 Passionate​ about stock market and intraday trading in particular, VRD Sir is both a successful trader and a motivational teacher to all his students. He trades in both Indian and US equity markets. VRD sir's mission is to train 1 Million people on financial markets and make them financially independent. His core strengths are intraday trading in indices (NIFTY, BANKNIFTY), F&O stocks and Options.  Before founding VRD Nation, he worked in US for over 10 years and in Japan for 2 years. His academic and professional stints are mentioned below.
His passion project is "Gurukul", which he plan be India's biggest free online library of stock market related videos.  All these videos are geared towards Indian traders and complex topics are made simple by using animation, live trading and a lot of examples. Do check them out to learn about Sir's teaching style and his quest for elevating everyone's trading game.
Sir's interest in academics and finance in particular, led him to pursue another post graduate degree – MBA from UCLA Anderson. Along with building a network of highly capable professionals, he also spent considerable time understanding the dynamics of start-ups and acquired skills & knowledge that later helped him launch VRD Nation. He interests always lied with finance therefore he took as many courses as possible in Corporate Finance, Behavioral Finance, Venture Capital & Private Equity and Hedge Funds.

He did his post-graduation in Industrial Engineering from NITIE, Mumbai. His subjects of interest were Statistics & Probability in particular – both of which helped him shape up to become a successful trader later in his life. While at Mumbai, he also built friendship with like minded traders who, later, became part of his trading room in both US and India. He accepted an offer with ABB as Management Trainee during the campus placement.
He's a Mechanical Engineer from Government Engineering College, Jabalpur. He was top of his class and excelled in academics throughout the engineering program. He was placed with L&T from campus recruitment but decided to pursue post-graduation instead.
Based out of Los Angeles, California, this was VRD Sir's last stint with the corporate world.  As a Senior Manager of Sales & Marketing Operations, he was responsible for overseeing the Direct Sales Operations line of business.  He was overseeing the management of technology, people, and process as it relates to marketing and sales. He manged a team of project and operations managers responsible for $20B annual revenue. He also served as business stakeholder for IT all projects and enhancements related sales and marketing
.
After working 8 years in consulting, Sir decided to settle down in Los Angeles in the capacity of Manager, Enterprise Application with Herbalife, USA. He was responsible for managing global supply chain related projects. He travelled worldwide during his stint with Herbalife – countries such as Brazil, Peru, Netherlands, China, Korea etc.
Started the career in Oracle Applications and went into the consulting world quickly. He spent over 2 years in Japan and absolutely loved the experience. Working with a client like Sony Semiconductors and Sony VAIO was brutal but a great learning experience for a beginner at the time. Then he moved to US and worked with several clients such as Arrow Electronics, Guthy Renker, Biomarin and Beckman & Coulter. When the travel began to take a toll on personal life, he decided to switch to a full-time role.
Defensive by default, Aggressive by choice
Journey with Stock Markets